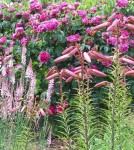 1.  They create unreasonable expectation.
2.  They are totally static and nature is not.
3.  Planting plans have people drooling for the ultimate moment of peak perfection for that lovely flower only to have to stare at the wrong foliage or dead die back for almost all the rest of the year.
Like it? Click to share, tweet [...]