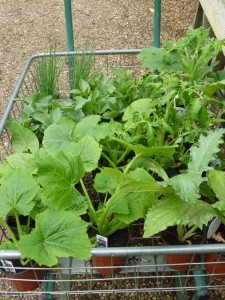 Allotment Week?  I read the Patient Gardener's Weblog and realised that this had passed me by.  Allotment ownership is a bit of a gallop.  Watering, sowing, keeping the nettles at bay.  Staking flopping plants and busiest of all, harvesting produce before it goes gigantic on you.  In our town, allotment tenure comes up for renewal on 1st April.  April is just a bit too late  as those vital winter months of prep have been lost.  Thus it is that we have been backfooting it ever since.  No time at all to stare in a trance at the view.
So, four months on, a few words of advice.  What have we done wrong or right?  First of all, start by buying in some plants.  After digging over the soil we went straight off to the local nursery and bought in a trolley full of plants.  The borlotti beans were direct sown but we had already missed the jump on a load of vegetables and spent happy hours pricking out beetroot seedlings, putting in whisker leeks three to a planting hole and courgettes and squashes to fill a fair amount of ground.
It just gets you that optimistic boost to get ahead.  In the garden at home we have a few pots with sowings  from seed.  The tomatoes are barely flowering, the cucumbers are the size of wood lice and the pigeons have snapped off the aubergine buds.   The race is on to get there ahead of autumn.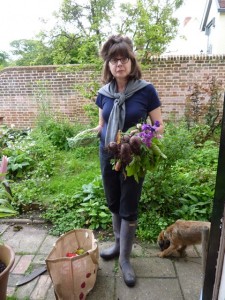 The second and big piece of advice is to share.  Having someone else on board frees you from the tyranny of having to visit every day to water and harvest.   Two minds over a decision down on the allotment is a delightful thing: the what shall we do with the strawberry plants? was mulled over in the cool of the evening for a week.  And on the sharing front, run out of time,  crash into a work deadline or some other distraction and the vegetables just keep on coming.
I have a third tip,  when a patch of earth become bare – in our case after the broad beans were dug out – sow a green manure crop.  This will ensure that the ground is not eft denuded to get pulverised by the unkind drumming of the rain.  The structure of the soil will be left entire and the crop will be a future source of nutrients.
That is just about where we have got to.  The choosing of seeds for the winter months is a job for this week oh and a pause while I go north on holiday, leaving fellow allotee in charge.